Labor Day / May Day in Italy
Quick Facts
Labor Day is a national holiday annually held in Italy on May 1.
Local names
| Name | Language |
| --- | --- |
| Festa del Lavoro | Italian |
| Labor Day / May Day | English |
| Tag der Arbeit | German |
Labor Day / May Day 2017
Monday, May 1, 2017
Labor Day / May Day 2018
Tuesday, May 1, 2018
List of dates for other years
Many Italians commemorate the labor union movement's social and economic achievements on Labor Day. It is a nationwide public holiday in Italy on May 1 each year.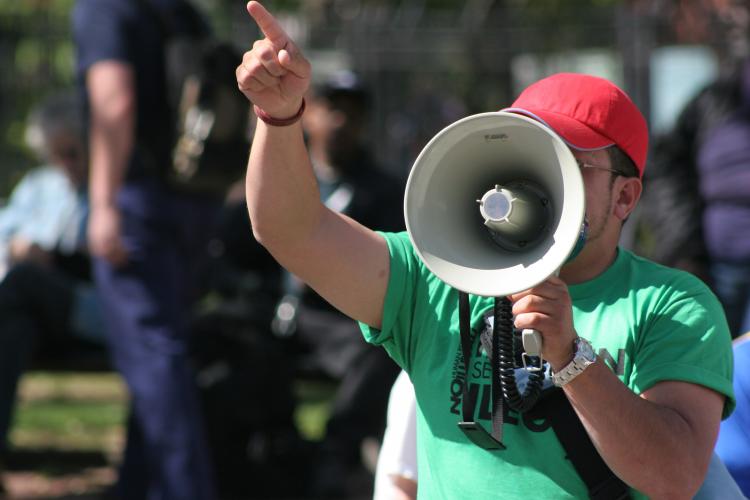 What Do People Do?
Many people in Italy spend Labor Day, also known as La Festa dei Lavoratori or Festa del Lavoro, by:
Attending concerts in cities such as Rome.
Catching up with friends and family.
Public demonstrations or protest to improve workers' rights and conditions.
Many Italians use Labor Day as a day of rest.
Public Life
Labour Day is a nationwide public holiday in Italy. Organizations and businesses that are closed include:
Government offices.
Post offices.
Banks.
Schools and other educational institutions.
Transport options, such as taxis, rail services between major cities and major long-route bus lines, are available but travelers are advised to check first with local transport authorities.
Background
The first Labor Day celebration in Italy was in the late 1800s to recognize workers' achievements in fighting for their rights. Farmers and other workers traditionally took the day off to eat, socialize and dance on May 1. It was cancelled for about 20 years in the early 20th century but was reintroduced in 1945. Labor Day is celebrated in many other countries globally.
About Labor Day / May Day in other countries
Read more about
Labor Day / May Day
.
Labor Day / May Day Observances
| Weekday | Date | Year | Name | Holiday type |
| --- | --- | --- | --- | --- |
| Tue | May 1 | 1990 | Labor Day / May Day | National holiday |
| Wed | May 1 | 1991 | Labor Day / May Day | National holiday |
| Fri | May 1 | 1992 | Labor Day / May Day | National holiday |
| Sat | May 1 | 1993 | Labor Day / May Day | National holiday |
| Sun | May 1 | 1994 | Labor Day / May Day | National holiday |
| Mon | May 1 | 1995 | Labor Day / May Day | National holiday |
| Wed | May 1 | 1996 | Labor Day / May Day | National holiday |
| Thu | May 1 | 1997 | Labor Day / May Day | National holiday |
| Fri | May 1 | 1998 | Labor Day / May Day | National holiday |
| Sat | May 1 | 1999 | Labor Day / May Day | National holiday |
| Mon | May 1 | 2000 | Labor Day / May Day | National holiday |
| Tue | May 1 | 2001 | Labor Day / May Day | National holiday |
| Wed | May 1 | 2002 | Labor Day / May Day | National holiday |
| Thu | May 1 | 2003 | Labor Day / May Day | National holiday |
| Sat | May 1 | 2004 | Labor Day / May Day | National holiday |
| Sun | May 1 | 2005 | Labor Day / May Day | National holiday |
| Mon | May 1 | 2006 | Labor Day / May Day | National holiday |
| Tue | May 1 | 2007 | Labor Day / May Day | National holiday |
| Thu | May 1 | 2008 | Labor Day / May Day | National holiday |
| Fri | May 1 | 2009 | Labor Day / May Day | National holiday |
| Sat | May 1 | 2010 | Labor Day / May Day | National holiday |
| Sun | May 1 | 2011 | Labor Day / May Day | National holiday |
| Tue | May 1 | 2012 | Labor Day / May Day | National holiday |
| Wed | May 1 | 2013 | Labor Day / May Day | National holiday |
| Thu | May 1 | 2014 | Labor Day / May Day | National holiday |
| Fri | May 1 | 2015 | Labor Day / May Day | National holiday |
| Sun | May 1 | 2016 | Labor Day / May Day | National holiday |
| Mon | May 1 | 2017 | Labor Day / May Day | National holiday |
| Tue | May 1 | 2018 | Labor Day / May Day | National holiday |
| Wed | May 1 | 2019 | Labor Day / May Day | National holiday |
| Fri | May 1 | 2020 | Labor Day / May Day | National holiday |
Other holidays in May 2017 in Italy
Advertising

Other calendars
Related links