Liberation Day in Italy
Quick Facts
Celebrated on April 25 each year, Italy's Liberation Day commemorates when the Allied troops liberated the country from the Nazi occupation during World War II.
Local names
| Name | Language |
| --- | --- |
| Liberazione | Italian |
| Liberation Day | English |
| Tag der Befreiung Italiens | German |
Liberation Day 2017
Tuesday, April 25, 2017
Liberation Day 2018
Wednesday, April 25, 2018
List of dates for other years
Liberation Day is a national holiday in Italy that is annually celebrated on April 25. It marks the fall of Mussolini's Italian Social Republic and the end of the Nazi occupation in Italy in 1945, towards the end of the second World War.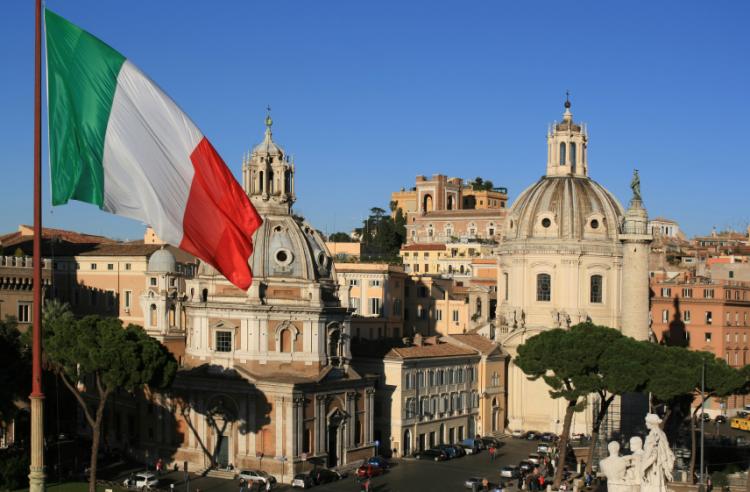 What Do People Do?
Liberation Day (Festa della Liberazione) remembers Italians who fought against the Nazis and Mussolini's troops during World War II. The day honors those who served in the Italian Resistance. Marching bands, music concerts, food festivals, political rallies, and other public gatherings take place in many places in Italy.
Public Life
Liberation Day is a nationwide public holiday in Italy. Organizations and businesses that are closed include:
Government offices.
Post offices.
Banks.
Schools and other educational institutions.
Transport options, such as taxis, rail services between major cities and major long-route bus lines, are available but travelers are advised to check first with local transport authorities.
Background
On April 25, 1945, the Allied troops liberated Italy from the Nazi occupation and Benito Mussolini's rule. Mussolini was an Italian politician who led the National Fascist Party from 1922 to 1943. He then led the Italian Social Republic in parts of Italy that were not occupied by Allied forces from 1943 to 1945.
Symbols
The Italian flag is usually seen in parades to celebrate Liberation Day. The song 'Bella Ciao' is also played often around this time of the year, as it was sung by the Italian resistance during World War II.
Liberation Day Observances
| Weekday | Date | Year | Name | Holiday type |
| --- | --- | --- | --- | --- |
| Wed | Apr 25 | 1990 | Liberation Day | National holiday |
| Thu | Apr 25 | 1991 | Liberation Day | National holiday |
| Sat | Apr 25 | 1992 | Liberation Day | National holiday |
| Sun | Apr 25 | 1993 | Liberation Day | National holiday |
| Mon | Apr 25 | 1994 | Liberation Day | National holiday |
| Tue | Apr 25 | 1995 | Liberation Day | National holiday |
| Thu | Apr 25 | 1996 | Liberation Day | National holiday |
| Fri | Apr 25 | 1997 | Liberation Day | National holiday |
| Sat | Apr 25 | 1998 | Liberation Day | National holiday |
| Sun | Apr 25 | 1999 | Liberation Day | National holiday |
| Tue | Apr 25 | 2000 | Liberation Day | National holiday |
| Wed | Apr 25 | 2001 | Liberation Day | National holiday |
| Thu | Apr 25 | 2002 | Liberation Day | National holiday |
| Fri | Apr 25 | 2003 | Liberation Day | National holiday |
| Sun | Apr 25 | 2004 | Liberation Day | National holiday |
| Mon | Apr 25 | 2005 | Liberation Day | National holiday |
| Tue | Apr 25 | 2006 | Liberation Day | National holiday |
| Wed | Apr 25 | 2007 | Liberation Day | National holiday |
| Fri | Apr 25 | 2008 | Liberation Day | National holiday |
| Sat | Apr 25 | 2009 | Liberation Day | National holiday |
| Sun | Apr 25 | 2010 | Liberation Day | National holiday |
| Mon | Apr 25 | 2011 | Liberation Day | National holiday |
| Wed | Apr 25 | 2012 | Liberation Day | National holiday |
| Thu | Apr 25 | 2013 | Liberation Day | National holiday |
| Fri | Apr 25 | 2014 | Liberation Day | National holiday |
| Sat | Apr 25 | 2015 | Liberation Day | National holiday |
| Mon | Apr 25 | 2016 | Liberation Day | National holiday |
| Tue | Apr 25 | 2017 | Liberation Day | National holiday |
| Wed | Apr 25 | 2018 | Liberation Day | National holiday |
| Thu | Apr 25 | 2019 | Liberation Day | National holiday |
| Sat | Apr 25 | 2020 | Liberation Day | National holiday |
Other holidays in April 2017 in Italy
Advertising

Other calendars
Related links