Battle of Puebla in Mexico
Quick Facts
Cinco de Mayo is an annual government and school holiday dedicated to the Mexican army's victory of the Battle of Puebla.
Local names
| Name | Language |
| --- | --- |
| Battle of Puebla | English |
| Batalla de Puebla | Spanish |
| Schlacht bei Puebla | German |
Alternative name
Cinco de Mayo
Battle of Puebla 2017
Friday, May 5, 2017
Battle of Puebla 2018
Saturday, May 5, 2018
List of dates for other years
Cinco de Mayo, Spanish for the 5th of May, celebrates the defeat of the French army during the Battle of Puebla (Batalla de Puebla) in Mexico on May 5, 1862. It is not to be confused with the country's Independence Day.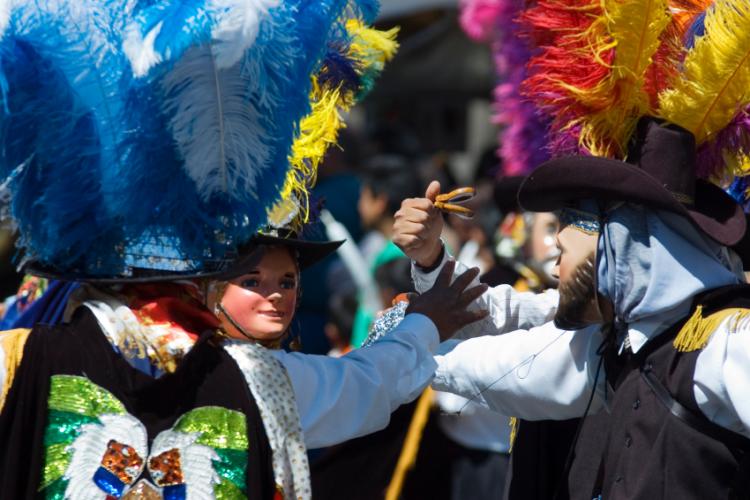 Celebrate Cinco de Mayo
Cinco de Mayo is mainly observed in the Mexican state of Puebla, where parades with people dressed in costumes are held to celebrate the day. Reenactments of the Battle of Puebla also take place in other parts of Mexico, including Peñón de los Baños in Mexico City, where the day is celebrated by people originally from Puebla.
Public Life
Cinco de Mayo is a government and school holiday in Mexico, so government offices and many schools are closed. It is also a regional holiday in the states of Puebla and Veracruz.
About Cinco de Mayo
Cinco de Mayo officially commemorates the anniversary of an early victory by Mexican forces over French forces in the Battle of Puebla on May 5, 1862. Contrary to popular belief, it is not the anniversary of the defeat and expulsion of the French forces by the Mexicans, which occurred in 1867. The battle in Puebla did, however, lift the confidence of the Mexican army and people. It helped boost national unity at the time.
Did You Know?
Cinco de Mayo celebrations are very popular in cities like Los Angeles and San Francisco in the United States.
Battle of Puebla Observances
| Weekday | Date | Year | Name | Holiday type |
| --- | --- | --- | --- | --- |
| Sat | May 5 | 1990 | Battle of Puebla | Observance |
| Sun | May 5 | 1991 | Battle of Puebla | Observance |
| Tue | May 5 | 1992 | Battle of Puebla | Observance |
| Wed | May 5 | 1993 | Battle of Puebla | Observance |
| Thu | May 5 | 1994 | Battle of Puebla | Observance |
| Fri | May 5 | 1995 | Battle of Puebla | Observance |
| Sun | May 5 | 1996 | Battle of Puebla | Observance |
| Mon | May 5 | 1997 | Battle of Puebla | Observance |
| Tue | May 5 | 1998 | Battle of Puebla | Observance |
| Wed | May 5 | 1999 | Battle of Puebla | Observance |
| Fri | May 5 | 2000 | Battle of Puebla | Observance |
| Sat | May 5 | 2001 | Battle of Puebla | Observance |
| Sun | May 5 | 2002 | Battle of Puebla | Observance |
| Mon | May 5 | 2003 | Battle of Puebla | Observance |
| Wed | May 5 | 2004 | Battle of Puebla | Observance |
| Thu | May 5 | 2005 | Battle of Puebla | Observance |
| Fri | May 5 | 2006 | Battle of Puebla | Observance |
| Sat | May 5 | 2007 | Battle of Puebla | Observance |
| Mon | May 5 | 2008 | Battle of Puebla | Observance |
| Tue | May 5 | 2009 | Battle of Puebla | Observance |
| Wed | May 5 | 2010 | Battle of Puebla | Observance |
| Thu | May 5 | 2011 | Battle of Puebla | Observance |
| Sat | May 5 | 2012 | Battle of Puebla | Observance |
| Sun | May 5 | 2013 | Battle of Puebla | Observance |
| Mon | May 5 | 2014 | Battle of Puebla | Observance |
| Tue | May 5 | 2015 | Battle of Puebla | Observance |
| Thu | May 5 | 2016 | Battle of Puebla | Observance |
| Fri | May 5 | 2017 | Battle of Puebla | Observance |
| Sat | May 5 | 2018 | Battle of Puebla | Observance |
| Sun | May 5 | 2019 | Battle of Puebla | Observance |
| Tue | May 5 | 2020 | Battle of Puebla | Observance |
Other holidays in May 2017 in Mexico
Advertising

Other calendars
Related links