Liberation Day in Netherlands
Quick Facts
Liberation Day in the Netherlands celebrates the end of World War II in Europe.
Local names
| Name | Language |
| --- | --- |
| Bevrijdingsdag | Dutch |
| Liberation Day | English |
| Tag der Befreiung | German |
Liberation Day 2017
Friday, May 5, 2017
Liberation Day 2018
Saturday, May 5, 2018
List of dates for other years
Liberation Day (Bevrijdingsdag) is celebrated in the Netherlands on May 5, the day after Remembrance Day. It commemorates the end of the Nazi occupation during the Second World War.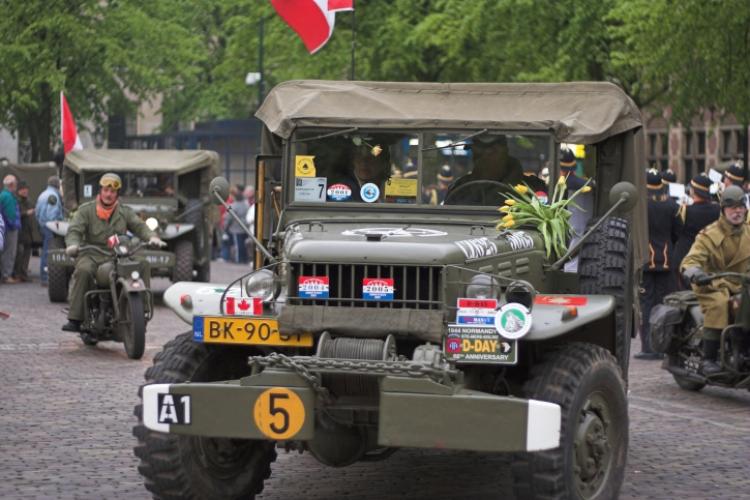 Celebrate Liberation Day
Liberation Day marks the celebration of freedom and the end of the Second World War for the Netherlands. There are various festivals and celebrations on Liberation Day each year, but it is an official day off only once every 5 years. Events include the Liberation Festival (Bevrijdingsfestival) in Amsterdam, which showcases the talents of Dutch and international musicians.
Public Life
Liberation Day is a national holiday in the Netherlands every 5 years. Banks, post offices, and many businesses are closed. Opening hours in stores vary. Some stores are open as usual, some are open for part of the day, and some are closed all day.
Public transport services may run to a holiday timetable or not run at all. It is a good idea for people wishing to travel by public transport to check timetables for all parts of the routes carefully before setting out.
About Liberation Day
The Second World War was a global war that lasted from 1939 until 1945. The Netherlands was not fully liberated until August 1945. Soon after the war, it was decided that Liberation Day should be held on 5 May, the date of the German army's defeat.
Liberation Day Observances
| Weekday | Date | Year | Name | Holiday type |
| --- | --- | --- | --- | --- |
| Sat | May 5 | 1990 | Liberation Day | Observance |
| Sun | May 5 | 1991 | Liberation Day | Observance |
| Tue | May 5 | 1992 | Liberation Day | Observance |
| Wed | May 5 | 1993 | Liberation Day | Observance |
| Thu | May 5 | 1994 | Liberation Day | Observance |
| Fri | May 5 | 1995 | Liberation Day | Observance |
| Sun | May 5 | 1996 | Liberation Day | Observance |
| Mon | May 5 | 1997 | Liberation Day | Observance |
| Tue | May 5 | 1998 | Liberation Day | Observance |
| Wed | May 5 | 1999 | Liberation Day | Observance |
| Fri | May 5 | 2000 | Liberation Day | National holiday |
| Sat | May 5 | 2001 | Liberation Day | Observance |
| Sun | May 5 | 2002 | Liberation Day | Observance |
| Mon | May 5 | 2003 | Liberation Day | Observance |
| Wed | May 5 | 2004 | Liberation Day | Observance |
| Thu | May 5 | 2005 | Liberation Day | National holiday |
| Fri | May 5 | 2006 | Liberation Day | Observance |
| Sat | May 5 | 2007 | Liberation Day | Observance |
| Mon | May 5 | 2008 | Liberation Day | Observance |
| Tue | May 5 | 2009 | Liberation Day | Observance |
| Wed | May 5 | 2010 | Liberation Day | National holiday |
| Thu | May 5 | 2011 | Liberation Day | Observance |
| Sat | May 5 | 2012 | Liberation Day | Observance |
| Sun | May 5 | 2013 | Liberation Day | Observance |
| Mon | May 5 | 2014 | Liberation Day | Observance |
| Tue | May 5 | 2015 | Liberation Day | National holiday |
| Thu | May 5 | 2016 | Liberation Day | Observance |
| Fri | May 5 | 2017 | Liberation Day | Observance |
| Sat | May 5 | 2018 | Liberation Day | Observance |
| Sun | May 5 | 2019 | Liberation Day | Observance |
| Tue | May 5 | 2020 | Liberation Day | National holiday |
Related holiday
Other holidays in May 2017 in Netherlands
Advertising

Other calendars
Related links