Christmas Day in Poland
Quick Facts
Christmas Day is a public holiday in Poland on December 25 each year.
Local names
| Name | Language |
| --- | --- |
| Boże Narodzenie | Polish |
| Christmas Day | English |
| Weihnachten | German |
Christmas Day 2017
Monday, December 25, 2017
Christmas Day 2018
Tuesday, December 25, 2018
List of dates for other years
Christmas Day is a national holiday in Poland on December 25 to celebrate the birth of Jesus Christ. It is a festive event and many people have the day off work and school.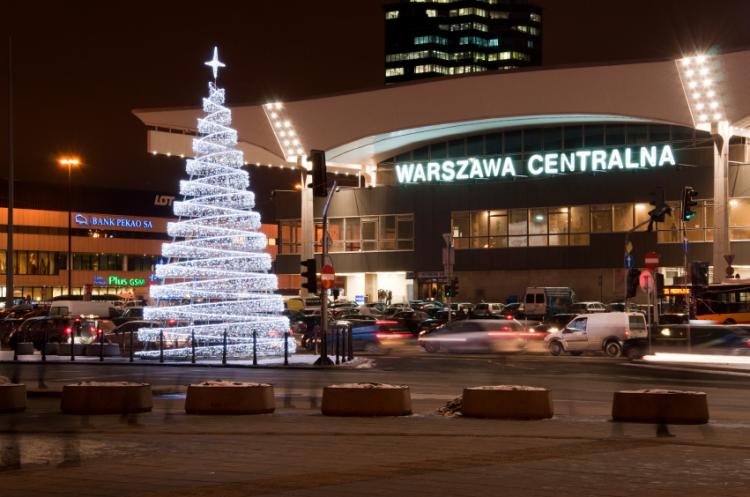 What Do People Do?
Christmas Eve (Wigilia), Christmas Day, and Boxing Day (or St Stephen's Day) are important days that are celebrated in many Polish homes. Christmas preparations begin days before December 25. Houses and apartments are cleaned and adorned with decorations, including a Christmas tree. Traditionally, Christmas trees are decorated with candles or lights, ornaments made of glass or eggshells, and wrapped treats on December 24.
Many families and friends enjoy getting together for a meal to celebrate the Christmas period. It is customary to break and give the Christmas wafer (oplatek), which is made of flour and water, to loved ones. Santa Claus (Mikolaj) generally does not come on Christmas Eve/Day but appears on December 6, the feast of St Nicholas. Christmas festivities continue on December 26, which is also a day off work in Poland.
Public Life
Christmas Day is an official public holiday in Poland, so schools, banks, government offices and most private businesses are closed. There is a trade prohibition on public holidays in Poland. People intending to travel via public transport during public holidays must check with the public transit authorities on any changes to time schedules.
Background
Many Christians in Poland and around the world celebrate the birth of Jesus Christ on Christmas Day.
Symbols
There are a number of traditional superstitious beliefs about Christmas. For example, it is believed that sheaves of wheat and rye, hay or straw under tables will bring good crops or fortune. This practice is also a reminder of the modest environment in which Jesus was born in. It is also said that animals could talk at a certain moment during Christmas Eve.
About Christmas Day in other countries
Read more about
Christmas Day
.
Christmas Day Observances
| Weekday | Date | Year | Name | Holiday type |
| --- | --- | --- | --- | --- |
| Tue | Dec 25 | 1990 | Christmas Day | National holiday |
| Wed | Dec 25 | 1991 | Christmas Day | National holiday |
| Fri | Dec 25 | 1992 | Christmas Day | National holiday |
| Sat | Dec 25 | 1993 | Christmas Day | National holiday |
| Sun | Dec 25 | 1994 | Christmas Day | National holiday |
| Mon | Dec 25 | 1995 | Christmas Day | National holiday |
| Wed | Dec 25 | 1996 | Christmas Day | National holiday |
| Thu | Dec 25 | 1997 | Christmas Day | National holiday |
| Fri | Dec 25 | 1998 | Christmas Day | National holiday |
| Sat | Dec 25 | 1999 | Christmas Day | National holiday |
| Mon | Dec 25 | 2000 | Christmas Day | National holiday |
| Tue | Dec 25 | 2001 | Christmas Day | National holiday |
| Wed | Dec 25 | 2002 | Christmas Day | National holiday |
| Thu | Dec 25 | 2003 | Christmas Day | National holiday |
| Sat | Dec 25 | 2004 | Christmas Day | National holiday |
| Sun | Dec 25 | 2005 | Christmas Day | National holiday |
| Mon | Dec 25 | 2006 | Christmas Day | National holiday |
| Tue | Dec 25 | 2007 | Christmas Day | National holiday |
| Thu | Dec 25 | 2008 | Christmas Day | National holiday |
| Fri | Dec 25 | 2009 | Christmas Day | National holiday |
| Sat | Dec 25 | 2010 | Christmas Day | National holiday |
| Sun | Dec 25 | 2011 | Christmas Day | National holiday |
| Tue | Dec 25 | 2012 | Christmas Day | National holiday |
| Wed | Dec 25 | 2013 | Christmas Day | National holiday |
| Thu | Dec 25 | 2014 | Christmas Day | National holiday |
| Fri | Dec 25 | 2015 | Christmas Day | National holiday |
| Sun | Dec 25 | 2016 | Christmas Day | National holiday |
| Mon | Dec 25 | 2017 | Christmas Day | National holiday |
| Tue | Dec 25 | 2018 | Christmas Day | National holiday |
| Wed | Dec 25 | 2019 | Christmas Day | National holiday |
| Fri | Dec 25 | 2020 | Christmas Day | National holiday |
Related holidays
Other holidays in December 2017 in Poland
Advertising

Other calendars
Related links