Kiev Day in Ukraine
Quick Facts
Kiev Day is observed in Ukraine's capital city, Kiev (or Kyiv), on the last weekend in May.
Local names
| Name | Language |
| --- | --- |
| День Киева Киев | Russian |
| День Києва Київ | Ukrainian |
| Kiev Day | English |
| Kiew-Tag | German |
Kiev Day 2017
Sunday, May 28, 2017
Kiev Day 2018
Sunday, May 27, 2018
List of dates for other years
Kiev Day, also known as Kyiv Day, is celebrated in Ukraine's capital city, Kiev (Kyiv), is on the last weekend in May.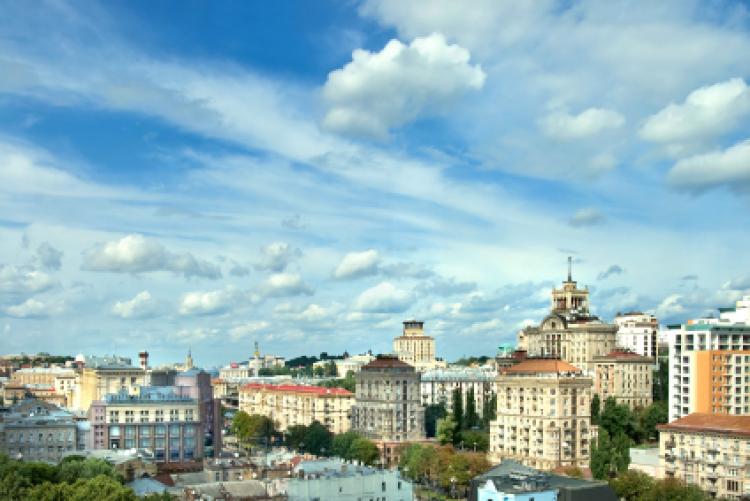 What Do People Do?
The city of Kiev celebrates Kiev Day by hosting activities and events such as:
Street and outdoor performances by various entertainers.
Cultural exhibitions.
Sporting activities such as marathons and charity runs.
Fashion shows.
Open-air music concerts.
Firework displays.
The Kiev Day celebrations take place on the Saturday and Sunday during the last weekend in May.
Public Life
Kiev Day is an observance and not a national public holiday in Ukraine.
Background
Like many cities and towns in Ukraine, Kyiv has its own special day to celebrate. Kyiv Day was first established in 1982 to honor the anniversary of the capital's founding. The celebrations became official in 1987.
Kiev Day Observances
| Weekday | Date | Year | Name | Holiday type |
| --- | --- | --- | --- | --- |
| Sun | May 27 | 1990 | Kiev Day | Observance |
| Sun | May 26 | 1991 | Kiev Day | Observance |
| Sun | May 31 | 1992 | Kiev Day | Observance |
| Sun | May 30 | 1993 | Kiev Day | Observance |
| Sun | May 29 | 1994 | Kiev Day | Observance |
| Sun | May 28 | 1995 | Kiev Day | Observance |
| Sun | May 26 | 1996 | Kiev Day | Observance |
| Sun | May 25 | 1997 | Kiev Day | Observance |
| Sun | May 31 | 1998 | Kiev Day | Observance |
| Sun | May 30 | 1999 | Kiev Day | Observance |
| Sun | May 28 | 2000 | Kiev Day | Observance |
| Sun | May 27 | 2001 | Kiev Day | Observance |
| Sun | May 26 | 2002 | Kiev Day | Observance |
| Sun | May 25 | 2003 | Kiev Day | Observance |
| Sun | May 30 | 2004 | Kiev Day | Observance |
| Sun | May 29 | 2005 | Kiev Day | Observance |
| Sun | May 28 | 2006 | Kiev Day | Observance |
| Sun | May 27 | 2007 | Kiev Day | Observance |
| Sun | May 25 | 2008 | Kiev Day | Observance |
| Sun | May 31 | 2009 | Kiev Day | Observance |
| Sun | May 30 | 2010 | Kiev Day | Observance |
| Sun | May 29 | 2011 | Kiev Day | Observance |
| Sun | May 27 | 2012 | Kiev Day | Observance |
| Sun | May 26 | 2013 | Kiev Day | Observance |
| Sun | May 25 | 2014 | Kiev Day | Observance |
| Sun | May 31 | 2015 | Kiev Day | Observance |
| Sun | May 29 | 2016 | Kiev Day | Observance |
| Sun | May 28 | 2017 | Kiev Day | Observance |
| Sun | May 27 | 2018 | Kiev Day | Observance |
| Sun | May 26 | 2019 | Kiev Day | Observance |
| Sun | May 31 | 2020 | Kiev Day | Observance |
Other holidays in May 2017 in Ukraine
Advertising

Other calendars
Related links