Father Damien Day in United States
Quick Facts
Father Damien Day or Saint Damien Day is an occasion for residents of the state of Hawaii to remember the life and deeds of a Belgian missionary.
Local names
| Name | Language |
| --- | --- |
| Father Damien Day | English |
| Día del Padre Damien | Spanish |
| יום דמיאן אב | Hebrew |
| الأب داميان يوم | Arabic |
| 아버지 데미언의 날 | Korean |
| Father-Damien-Tag | German |
Alternative names
| Name | Language |
| --- | --- |
| Saint Damien Day | English |
| Saint Damien Day | German |
Father Damien Day 2017
Saturday, April 15, 2017
Father Damien Day 2018
Sunday, April 15, 2018
List of dates for other years
On April 15, 1889, Father Damien died of Hansen's disease on the island of Molokai, Hawaii. He was a man who cared for sufferers of this disease and continued his missionary work on this island. People in Hawaii remember his life and deeds on April 15, the anniversary of his death.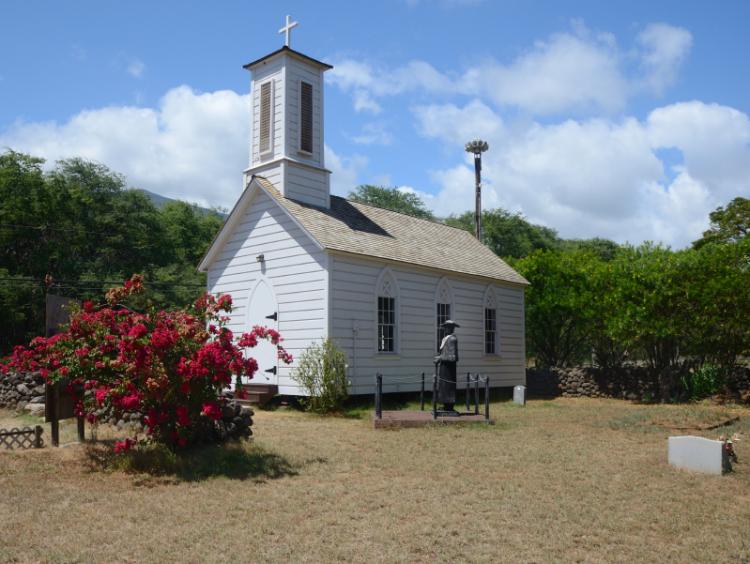 What Do People Do?
A variety of activities are organized on April 15. The statue of Father Damien at the Hawaii Capitol is carefully draped in lei (a Hawaiian flower garland often hung around the necks of guests), prayers are said and solemn songs are sung. Father Damien is awaiting sainthood and recently, a Catholic Feast Day has been created for Blessed Damien of Molokai, as he has become known, on May 10. On this day, wreaths are laid at his statue, prayer services are held and essay competitions are held.
Public Life
April 15 is not a public holiday in Hawaii.
Background
On January 3, 1840, Jozef de Veuster was born in the village of Tremelo in Belgium. He took the name Damianus when he became a novice in the order of the Congregation of the Sacred Hearts of Jesus and Mary (also known as Picpus Fathers) in Leuven, Belgium. In 1860 he became a full member of the order. This congregation sent missionaries to work on some islands in the Pacific Ocean since 1827. Father Damien, as he was known, was sent to Hawaii, where he worked in a colony for sufferers of Hansen's disease, or leprosy, on the island of Molokai. He spent the rest of his life there working to alleviate suffering and died of the same disease on April 15, 1889. He was canonized by Pope Benedict XVI in 2009 and is now referred to as Saint Damien.
Symbols
Images of St. Damien are in churches and public places around the world. There are two identical bronze statues in Father Damien's honor, which were designed by the sculptor Marisol Escobar and unveiled in 1969. One forms the centerpiece of the entrance to the Hawaii State Capitol in Honolulu and the other is in the National Statuary Hall Collection in the United States Capitol, Washington, DC.
Father Damien was originally buried on Molokai and his grave there is a site of devotion. In 1936, he body was returned to Belgium and he is now buried in Belgium, close to where he was born. His religious symbols are a tree and a dove and he is a spiritual patron for people living with HIV.
Father Damien Day Observances
| Weekday | Date | Year | Name | Holiday type | Where it is observed |
| --- | --- | --- | --- | --- | --- |
| Sun | Apr 15 | 1990 | Father Damien Day | Local observance | Hawaii |
| Mon | Apr 15 | 1991 | Father Damien Day | Local observance | Hawaii |
| Wed | Apr 15 | 1992 | Father Damien Day | Local observance | Hawaii |
| Thu | Apr 15 | 1993 | Father Damien Day | Local observance | Hawaii |
| Fri | Apr 15 | 1994 | Father Damien Day | Local observance | Hawaii |
| Sat | Apr 15 | 1995 | Father Damien Day | Local observance | Hawaii |
| Mon | Apr 15 | 1996 | Father Damien Day | Local observance | Hawaii |
| Tue | Apr 15 | 1997 | Father Damien Day | Local observance | Hawaii |
| Wed | Apr 15 | 1998 | Father Damien Day | Local observance | Hawaii |
| Thu | Apr 15 | 1999 | Father Damien Day | Local observance | Hawaii |
| Sat | Apr 15 | 2000 | Father Damien Day | Local observance | Hawaii |
| Sun | Apr 15 | 2001 | Father Damien Day | Local observance | Hawaii |
| Mon | Apr 15 | 2002 | Father Damien Day | Local observance | Hawaii |
| Tue | Apr 15 | 2003 | Father Damien Day | Local observance | Hawaii |
| Thu | Apr 15 | 2004 | Father Damien Day | Local observance | Hawaii |
| Fri | Apr 15 | 2005 | Father Damien Day | Local observance | Hawaii |
| Sat | Apr 15 | 2006 | Father Damien Day | Local observance | Hawaii |
| Sun | Apr 15 | 2007 | Father Damien Day | Local observance | Hawaii |
| Tue | Apr 15 | 2008 | Father Damien Day | Local observance | Hawaii |
| Wed | Apr 15 | 2009 | Father Damien Day | Local observance | Hawaii |
| Thu | Apr 15 | 2010 | Father Damien Day | Local observance | Hawaii |
| Fri | Apr 15 | 2011 | Father Damien Day | Local observance | Hawaii |
| Sun | Apr 15 | 2012 | Father Damien Day | Local observance | Hawaii |
| Mon | Apr 15 | 2013 | Father Damien Day | Local observance | Hawaii |
| Tue | Apr 15 | 2014 | Father Damien Day | Local observance | Hawaii |
| Wed | Apr 15 | 2015 | Father Damien Day | Local observance | Hawaii |
| Fri | Apr 15 | 2016 | Father Damien Day | Local observance | Hawaii |
| Sat | Apr 15 | 2017 | Father Damien Day | Local observance | Hawaii |
| Sun | Apr 15 | 2018 | Father Damien Day | Local observance | Hawaii |
| Mon | Apr 15 | 2019 | Father Damien Day | Local observance | Hawaii |
| Wed | Apr 15 | 2020 | Father Damien Day | Local observance | Hawaii |
Other holidays in April 2017 in United States
Advertising

Other calendars
Related links