Maundy Thursday in United States
Quick Facts
Maundy Thursday, which is also known as Holy Thursday, is the day before Good Friday.
Local names
| Name | Language |
| --- | --- |
| Maundy Thursday | English |
| Jueves Santo | Spanish |
| יום חמישי הקדוש | Hebrew |
| خميس الأسرار | Arabic |
| 성목요일 | Korean |
| Gründonnerstag | German |
Maundy Thursday 2017
Thursday, April 13, 2017
Maundy Thursday 2018
Thursday, March 29, 2018
List of dates for other years
Maundy Thursday, also known as Holy Thursday, is a Christian observance in the United States. It is the day before Good Friday and takes place during Holy Week. It commemorates Jesus Christ's last supper and the initiation of Holy Communion (the Eucharist), observed in many Christian churches.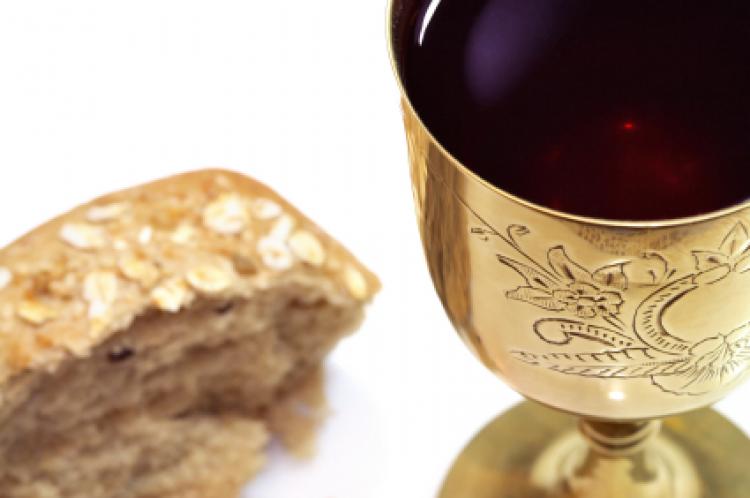 What Do People Do?
Many Holy Thursday services, particularly in the Catholic churches, are held in the evenings and offer Communion (or Eucharist) to the congregation. Some priests or ministers wash parishioners' feet in memory of the story of Jesus washing his disciples' feet. Holy oils are blessed to symbolize that the sacraments have their source in Jesus Christ, according to Christian belief. Hymns such as the Pange Lingua, Gloria, or Ubi Caritas, are usually sung in some church services during this time of the year.
Some churches offer a pot luck supper for congregation members after the Holy Thursday service. If donations are collected from the suppers, they usually go towards charitable causes. Holy Thursday serves as a time for some Christians to donate money to the poor. Some people also prepare a meal that includes roast lamb, bitter herbs and wine around this time of the year.
Public Life
Maundy Thursday is not a public holiday in the United States so schools, government offices and businesses are open. Public transport providers run to their usual schedules.
Background
Holy Thursday, or Maundy Thursday, commemorates the institution of the Eucharist, a Christian sacrament that involves consecrating (or making holy) bread and wine. The term "Maundy" derives from the Latin word for "commandment". The New Testament in the bible describes events that took place on Holy Thursday. These events include Jesus washing his disciples' feet and the Last Supper before he was arrested. Many Maundy Thursday church traditions come from practices that took place in Europe for many centuries.
About Maundy Thursday in other countries
Read more about
Maundy Thursday
.
Maundy Thursday Observances
| Weekday | Date | Year | Name | Holiday type | Where it is observed |
| --- | --- | --- | --- | --- | --- |
| Thu | Apr 12 | 1990 | Maundy Thursday | Christian | |
| Thu | Mar 28 | 1991 | Maundy Thursday | Christian | |
| Thu | Apr 16 | 1992 | Maundy Thursday | Christian | |
| Thu | Apr 8 | 1993 | Maundy Thursday | Christian | |
| Thu | Mar 31 | 1994 | Maundy Thursday | Christian | |
| Thu | Apr 13 | 1995 | Maundy Thursday | Christian | |
| Thu | Apr 4 | 1996 | Maundy Thursday | Christian | |
| Thu | Mar 27 | 1997 | Maundy Thursday | Christian | |
| Thu | Apr 9 | 1998 | Maundy Thursday | Christian | |
| Thu | Apr 1 | 1999 | Maundy Thursday | Christian | |
| Thu | Apr 20 | 2000 | Maundy Thursday | Christian | |
| Thu | Apr 12 | 2001 | Maundy Thursday | Christian | |
| Thu | Mar 28 | 2002 | Maundy Thursday | Christian | |
| Thu | Apr 17 | 2003 | Maundy Thursday | Christian | |
| Thu | Apr 8 | 2004 | Maundy Thursday | Christian | |
| Thu | Mar 24 | 2005 | Maundy Thursday | Christian | |
| Thu | Apr 13 | 2006 | Maundy Thursday | Christian | |
| Thu | Apr 5 | 2007 | Maundy Thursday | Christian | |
| Thu | Mar 20 | 2008 | Maundy Thursday | Christian | |
| Thu | Apr 9 | 2009 | Maundy Thursday | Christian | |
| Thu | Apr 1 | 2010 | Maundy Thursday | Christian | |
| Thu | Apr 21 | 2011 | Maundy Thursday | Christian | |
| Thu | Apr 5 | 2012 | Maundy Thursday | Christian | |
| Thu | Mar 28 | 2013 | Maundy Thursday | Christian | |
| Thu | Apr 17 | 2014 | Maundy Thursday | Christian | |
| Thu | Apr 2 | 2015 | Maundy Thursday | Christian | |
| Thu | Mar 24 | 2016 | Maundy Thursday | Christian | |
| Thu | Apr 13 | 2017 | Maundy Thursday | Christian | |
| Thu | Mar 29 | 2018 | Maundy Thursday | Christian | |
| Thu | Apr 18 | 2019 | Maundy Thursday | Christian | |
| Thu | Apr 9 | 2020 | Maundy Thursday | Christian | |
Related holidays
Other holidays in April 2017 in United States
Advertising

Other calendars
Related links