iPad App: Calendar & Holidays Pro

Do you often deal with business contacts in other Time Zones or travel for business or leisure?
Make sure you are not caught out by non-working days or bank closures.
The Calendar & Holidays Pro App helps you coordinate international meetings, makes planning trips easier, and provides extensive information about holidays worldwide database in the palm of your hand.
Features | Get it now from the App Store
---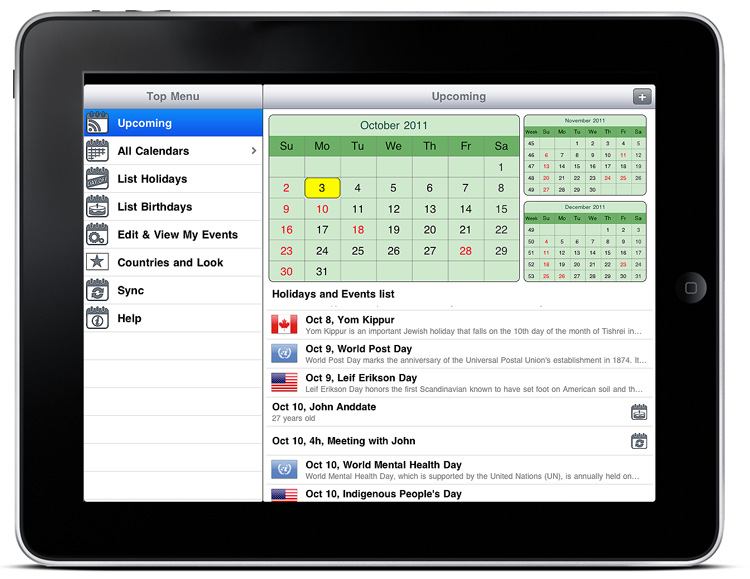 Features
View calendars for any month or year from 1950 to 2049 and customize the design.
Shows calendar events for this year and next year
iCal Export: Syncs to iPad Calendar, plus G-mail and yahoo calendars
Facebook Import: Imports your Facebook friends' birthdays
Holidays & Events: Get updated information about holidays and observances:

Are offices, banks or businesses closed?
Is it a day off for employees in the private or public sectors?
How and why is this holiday celebrated or observed?

Add your own Events: Add notes, birthdays, private holidays or any other event.
Birthday view: Lists upcoming birthdays
Daylight Saving Time: See if and when countries switch between standard time and Daylight Saving Time.
Sun & Moon: Includes information about moon phases, solstices and equinoxes worldwide.
---
More Apps from timeanddate.com
Check out our selection of apps for iPhone and iPad. We constantly develop new apps, so please keep in touch for updates.
Advertising

Other calendars
Related links