World Clock for Windows 8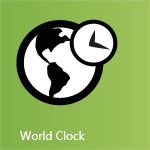 Want to know the time at any location in the world? Our free World Clock – Time Zones App gives Windows 8 users the ability to find local time and time zone information for thousands of locations around the world.
Find out the local time, time zone and offset from Coordinated Universal Time (UTC), Daylight Saving Time (DST) dates, sunrise and sunset times, and country flag information for any city of your choice.
Don't have a Windows 8 device? This service is also free on iPhone, iPad, and on our site.
Features | Get it now from Windows Store
---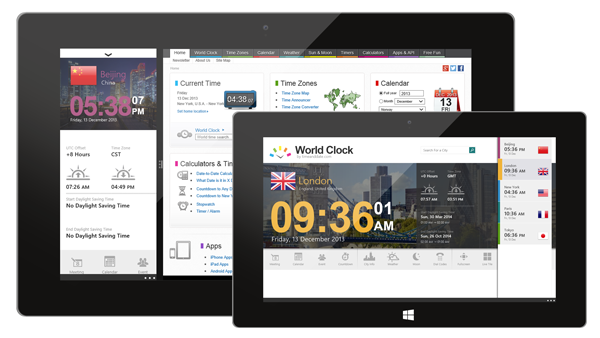 Features
Accurate time, synchronized with timeanddate.com.
Large selection of cities from around the world to choose from.
Sunrise and sunset times.
DST start and end dates.
Full support for desktop and tablet.
Snapped view, so you can see your clocks while you work on something else.
Fullscreen mode, showing a large clock of the city of choice.
Quick access to many of timeanddate.com's services, allowing you to quickly plan a meeting or event, create countdowns, check the weather or moon phases, and find dialing codes.
Time format settings: choose if seconds should be displayed and switch between 24-hour and 12-hour format (AM/PM)
Sortable city list.
Upgrade Features
Time Adjustment - Set the time, to see the time around the world whenever.
Live Tiles - See your clocks rotating on a tile on your start screen.
No Adverts.
Rename/recolor the clocks.
See if it is day or night in the selected locations
The World Clock – Time Zones App is now available from Windows Store.
How to use the World Clock App for Windows 8
---
Advertising

Related links
Related time zone tools