We are freshening up the look of our City Information Pages
Tell us what you think about this new design. Press the survey button and give us your feedback.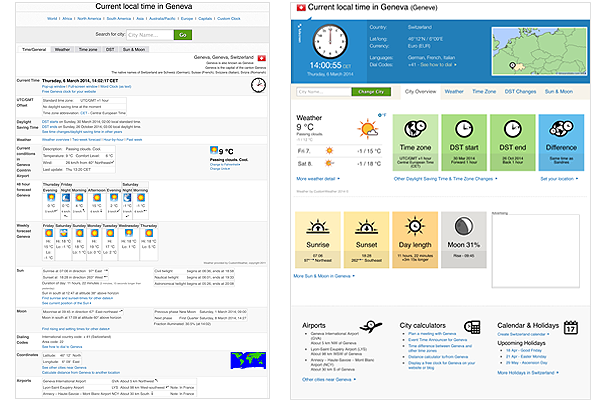 Our designers have been working hard to make our City Information Pages easier to navigate and nicer to look at. Find out what is new and why we decided to fix something that apparently wasn't broken.
Easier on the eyes
Our intention is to make it easier for you to find the information you are looking for. We felt our old City Information Pages were too text-heavy and cluttered. So we have now cut most of the text and replaced it clean, color-coded boxes you can click to get more detailed information.
We hope that mobile and tablet users will be particularly happy about the new design because it is much more adaptable to small screens.
More information
Looks like we cut out essential information? Well, we didn't. In fact, we added more:
A larger map showing the location
A larger clock
Currency
Official language(s)
Sochi was our guinea pig
In honor of the 2014 Winter Olympics, we applied the new design only to the Sochi city information page, so that you could have a sneak-preview of the new design and tell us your opinion.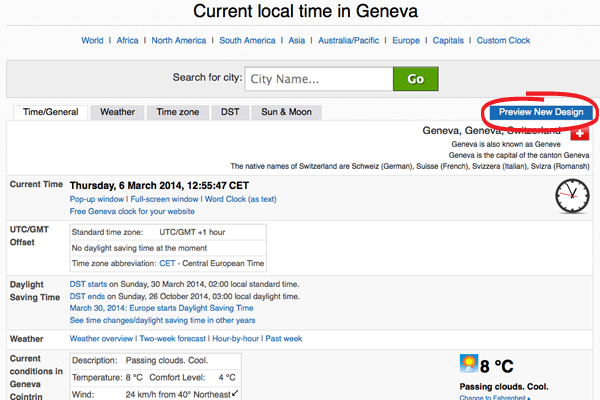 New design for all City Information Pages
Now, we have applied the new design to all City Information Pages. You can check out the new design by clicking on the "Preview New Design" button.
You will also notice that the Weather and the Sun and Moon pages still have the old design. It is not a mistake. We assure you that there is a method to our madness - we want to give you time to take in the new design and to give us some constructive feedback. Soon, we will roll out the new design for these pages as well.
Not phasing out old design yet
Prefer our old design? Don't worry we won't be phasing it out immediately. We want to give you enough time to adjust to the new design. During this time you are more than welcome to use our old format.
Give us a piece of your mind
Love or hate the new design? Have a few minutes? Please answer this short survey and help us make the City Information Pages better.
Have more to say? Please drop us a line!
Advertising

More information
Related link
Related time zone tools