Calendar of Cosmic Events: 2020-2021
Check out the dates and times for astronomical events like equinoxes, solstices, meteor showers, eclipses, supermoons, and more.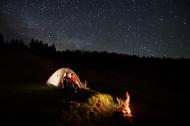 A New Moon in the sky means no moonlight to hinder your view of stars and planets. Use the Interactive Night Sky Map to find out what planets are visible tonight and where.
Astronomical Events in 2021